Retrofitting – Its 2 [Classifications, Techniques, Advantages]
|
RETROFITTING
Retrofitting is the process of upgrading the building systems or modifying something after it has been manufactured and making the building more resistant to seismic activity. It also refers that the addition of new technology to older designs.
After building initial construction and occupation, the retrofitting building involves changing its systems or structure and improves the performance of the building.
It can help cut carbon emissions, make it cheaper and easier to run buildings, contribute to poor ventilation and damp problems, and increase building resiliency, durability, and adaptability.
Rather than replacing the building, it proves to be a better economic consideration and immediate shelter to problems.
Classifications Of Retrofitting:
There are two classifications of it such as;
Retrofitting of reinforced concrete structures &
Retrofitting of masonry structures.
Retrofitting Of Reinforced Concrete Structures:
There are several techniques are available for the reinforced concrete structures, such as;
Jacketing Of Structural Members:
Fiber-reinforced polymer sheets are used by modern jacketing techniques and enhance the strength of deficient members with much higher strength than steel.
For the strengthening of deficient structural members, there are various jacketing techniques are available such as;
Concrete Jacketing:
By placing reinforcing steel rebar around its periphery, concreting is widely adopted, called concrete jacketing. It is for the enlargement of existing structural members like columns and beams. This method increases the member stiffness and its size.
Steel Jacketing:
With steel angles, channels, and bands, jacketing of columns and beams is done.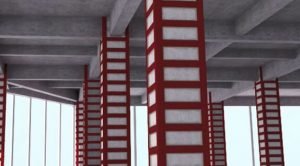 Fiber Reinforced Polymer Jacketing:
It is a modern technique for enhancing strength, and this technique base on composite materials such as carbon and glass fiber reinforced polymer. Using these high-strength sheets retrofitting of structures can be done with much ease by using this technique. In addition, composite materials are excellent options for external reinforcement because of their high tensile strength.
Addition Of Extra Structural Members:
Developing the solid alternative load path is another method and inclusion of reinforced concrete shear walls in between the columns. This method requires minor disturbance in the existing building, and in this method, only a shear wall is added right from the foundation level.
Addition Of Energy Dissipation Devices:
The energy devices like shock absorbers, this method is a highly effective approach in seismic retrofitting. Therefore, these devices installed in this method and the field of seismic retrofitting energy dissipation devices have shown great promise.
Retrofitting Of Masonry Structures:
To make the existing structure more resistant to seismic activity, soil failure, or ground motion due to earthquakes, retrofitting a masonry structure is modifying the current system. These techniques are also applicable for other natural hazards like winds from thunderstorms and tornadoes, etc.
There are many techniques of masonry structures as given below;
Adding New Shear Walls:
For retrofitting of non-ductile reinforced concrete frame buildings and added elements can be precast concrete elements, and at the exterior of the building, new features are placed. However, it is not preferred in the interior of the structure.
Adding Steel Bracing:
When large openings are required, it is an effective solution and potential advantages due to higher strength and stiffness and less work.
Base Isolation:
For the passive building, vibration control is the most powerful tool, and the superstructure from the foundation is known as base isolation. Base isolation gives some advantages that isolate buildings from ground motion and lesser damage to the structure.
Mass Reduction Technique:
Removing one or more stories may achieve, and removal of mass will lead to a decrease in the period, increasing the required strength.
Wall Thickness Technique of Retrofitting:
By adding bricks, the existing walls of a building are added to specific thicknesses, and the weight of the wall increases, and it can bear more vertical and horizontal loads. Also, it is designed under particular conditions.
Techniques Of Retrofitting:
Purposes Of Retrofitting:
There are the following purposes of retrofitting such as:
To make the building safer

For damaged buildings

Earthquake damaged buildings

Earthquake-vulnerable buildings

For public safety

Structure survivability

Structure functionality
Advantages:
There are the following advantages of retrofitting such as;
Energy saving

Better rental income

Improves comfort

Higher sale price

Higher occupancy

Increase in labor productivity

Better return on investment

Reduces risks

Higher reputation

Improves building quality

Lower operational cost

Greater building durability

Improves indoor environmental quality.
Disadvantages:
There are the following disadvantages such as.
Increase in dead load

High installation cost

If any indication of corrosion in the reinforcement, this technique is not useable

Chances of erosion are high

Bonding between concrete and steel plates

The production of dust causes health hazards to the public.