Pier and Beam Foundation – its 4 methods of Installation
|
Pier and Beam foundation
Pier and beam foundation is a foundation that has a crawl space between the ground and the structure. The pair and beam foundation is also referred to as post and beam foundation. Crawl space below footings and living space to support foundation are present in pier and beam foundation due to this it is more stable in shifting soils.
The exterior wall of the home is supported by a masonry foundation with the help of pier and beam construction. With having a pier and beam foundation there are pros and cons because there is a crawl space beneath the house.
For things like plumbing repairs or re-writing without having to break through a section of a slab, this can access that area more easily. Pier and beam foundation has an over slab foundation this is an advantage.
The construction of the pier and beam foundation is constructed with three primary components. The first one is deep in the ground reinforced concrete footing is buried which ensures the entire foundation of building in the ground to prevent shifting in volatile soil. Next, the pier is constructed and attached to the footing and piers are made from brick or concrete. The pier comes out of the ground and supports the beam which is connected to the floor joists.
Installation Of Pier And Beam Foundation:
There are several steps in installing or applying of pier & beam foundation which are given below;
Step 1: Dig Holes & Pour In Gravel & tamp
First, you must dig holes into the ground. Once those holes have been drilled, before placing pre-formed cardboard forms on top of it gravel is poured and compacted into the bottom.
Step 2: Place Tube In Holes & Begin Filling
Before being filled to the top with concrete, the forms are leveled with the ground and each other. Metal hardware that will be bolted to the floor support beams is placed into the top of the forms before concrete cures.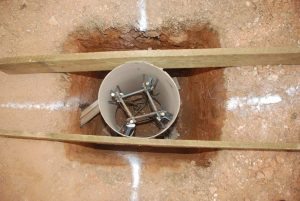 Step 3: Place Footing Hardware in Forms
Allow the concrete to fully cure and mound skids in hardware. When the concrete cures and wooden beams are bolted in and the floor is built on top of them.
Step 4: Attach Subfloor to Skids
Piers are spaced evenly otherwise the beams will begin sag which in turn will cause the windows and doors to stick. Also, you must make sure that there are no air bubbles in the concrete.
Use a spare piece of rebar and repeatedly stab the concrete all to the bottom of the form making sure to get along the walls of the tube after the forms have been filled halfway.             
Performance Of Pier And Beam Foundation:
The performance of this foundation depends on two factors:
First is the structural integrity of wood pier and due to the moisture for much longer of time naturally preserved wood that is able to resist the decay. The common practice is to use the cedar posts for piers.
The second factor of performance is drainage, the well and maintained drainage system can improve the performance of a pier and beam foundation.
Problems And Solutions Of Pier and Beam Foundation:
There are many problems and solution of pier and beam foundation such as;
1: Shifting Beams & Sagging Floors:
All kinds of problems develop when your structure is settling or sinking.
Solution: install piers and foundation support, install shims.
 2: Building & Tilting Piers Issue:
This produces foundation failure because it can cause your beam to move.
Solution: stabilize all foundation piers.
3: Cracking Exterior Piers:
Beams are moving or piers have given way to cause door frames to get out of kilter.
Solution: install new beams & shims, replace exterior piers.
4: Poor Construction:
Poor construction cause damages in pier and beam foundation.
Solution: raise your joists and foundation.
5: Damp Crawl Space:
The moisture problem is also present in the pier and beam foundation.
Solution: correction of foundation drainage.
6: Mildew & Mold In Beams:
That problem ruins your joists and wooden beam. This is a very common problem.
Solution: shimming needed on these buildings, extract the wooden member and replace them.
The soil beneath the foundation usually causes failing of foundation. During the building of the home, if the soil was not compatible this will cause the soil to lose and move beneath the foundation.                                                            
If you are having a foundation problem than there are some issues with pier and beam foundation is present. There are many sings that have settled or unlevel foundation. Some of the sings are;
Sloping floor
Leaning chimney
Sticking of doors and windows
Wall crack
Floor crack
Ceiling cracks
Bowing walls
Shimming b/w pier and beam
Lift and stabilize your foundation using underpinning products like helical piers and steel piers and these piers are driven deep into the ground.
For all pairing methods of foundation repair uses ECP steel piers.
ECP helical piers are installed into the ground and then the load is tested after this the total weight of the structure is lifted onto the piers and stabilize the structure.
It is most important to have an experienced foundation repair contractor if you see any foundation problem and offers you the foundation repair that you may need.
Advantages of Helical Piers:
No vibration
Can be installed in any weather conditions
Load transfer after installation
To verify the capacity load test is easy.
Advantages Of Pier And Beam Foundation:
There are many advantages of pier and beam foundation:
Termite control
Accessibility and ease
Easy and economical repair and change of foundation
On land with slopes, pier and beam foundation can be created
Easily access to pipes and wires
Builders need less equipment and space for installation.
Disadvantages Of Pier And Beam Foundation:
Development of moisture
Flooring can be difficult
If crawl space is too low difficulty in getting under the foundation.