Mosaic Tiles – Its 8 [Types and Uses] in Different Sections
|
Mosaic Tiles
Mosaic tiles are the combination of materials like ceramic, glass and stone. For easy installation these are usually set in a small format and set on mesh sheet and into the design of any shower, floor or bath mosaic can be incorporated.
Mosaic can be used in several different ways to bring beautiful appearance to your bathroom when designing a shower and it can also make a stunning waterfall effect with a linear glass mosaic running vertically floor to the ceiling.
As backsplash mosaic tiles are perfect to use and to add dimension and character to a kitchen small or large tiles are used and also it is a good way for colors and finishes in a kitchen and rooms surrounding the kitchen. As an elegant design element, you can simply break up a mosaic sheet and add one decorative strip.
Installing mosaic tiles can help in your decorative plans such as if you want to decorate the interior of your room, bathroom or flooring, etc then it is the best option that gives you the beautiful and decorative look.
Types Of Mosaic Tiles:
There are many types of mosaic tiles that are used for decorative purposes in every construction work.
Stone Mosaic Tiles:
For thousands of years, the natural stone mosaic tiles are used for interior decorative purposes. By adding some multi-colored pebbles in your bathroom or polished marble surface on living room walls the stone mosaic creates a more down to earth feel in your home.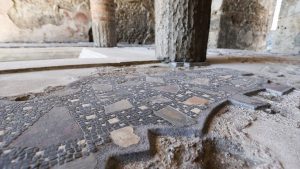 Stone tiles are the best option and you can get beautiful mosaic flower patterns and colorful designs in stone mosaic tiles and they are also crafted to endure through years of usage never losing their alluring appeal.
Glass Mosaic Tiles:
They are the transparent and mirrored tiles and in some cases, it bounces light around in a room and glows effect. The range of colors and styles of these tiles continues to make the material an excellent choice for backsplash surface and glass mosaic tiles are known for their ability to withstand stains and moisture.
The endless color and material combinations allow you to create a truly original look with steel and wood elements.
Medallions And Murals:
For creating flowing curves medallions and murals are used and that is single cut large piece tiles without needing tiny bits and pieces.
A Jeffers design is ideal for places of business where a logo can be displayed on floor or wall and also be used for decorative purposes.
Etched Stone:
Into the desired design, larger tiles can be etched that is specially carved and the result creates a sculptured effect on tile that is more luxurious and smoothly engraved.
The design can be deeply etched and intricate and it can be more finely etched with fine lines and curved that is perfect for floor pattern.
Hand Painted Stone:
To copy any design in any style hand-painted stones are perfect and hand-painted stone techniques can be adapted to include ornamental works of art or landscapes for kitchen backsplashes etc.
Stone Tiles:
To create different types of mosaic tiles manufacturing techniques and styles are one of the ways for this and you have a whole new way to make designs unique and breathtaking when you vary the size from tiny bits and pieces to large squares and other geometric shapes.
By creating large pieces you can get texture effects on the walls and mix and matching materials and sizes can create grand designs. It is also a lot trickier to do so doesn't try to do this on your own.
Water Jet Mosaics:
Water jet mosaics can create texture effects, dimensional, etc and it can also create reminiscent of etched stone and intricate scrollwork
It is a wonderful technology that uses not just stones but different types of materials to create a perfect design.
Swimming Pool Glass And Ceramic Mosaic Tiles:
Swimming pool glass tile is used in the pools and the Olympic pool are the biggest importers and these types of tiles are also used in spas, steam rooms, waterfalls and in washrooms, etc.
Uses Of Mosaic Tiles:
They are the most popular tiles used these days and to houses, it is used to give a beautiful and original appearance.
In Kitchen:
The kitchen is important to have a beautiful look and the kitchen is an aid to be the heart of the home. To create a backsplash design you can use mosaic tiles on the countertop and these tiles will add new charm and beautiful look to your kitchen.
In Living Room:
You can choose to cover your half or entire walls to create a cohesive interior for your home and make a beautiful and original appearance.
Shower:
To give a luxurious look you can use the mosaic tiles in your shower area and your shower becomes more enjoyable when a place looks beautiful.
In Sink:
To create a beautiful counter for your basin in dining are or in the washroom, you can use mosaic tiles and to your place, it will provide an exotic look.
Seats:
You can use these tiles to create beautiful seats if you have a garden. It will create your place more effectively and beautifully.
In the Bathroom:
The bathroom is important to make it beautiful and to decorate the walls or floor of the bathroom you can use mosaic tiles which make your bathroom good looking and you can also use these tiles around the mirror or cabinet.
In Planters:
The beauty of your house increases when you decide to create mosaic planters and plants always make your house look beautiful.
Advantages OF Mosaic Tiles:
Offer great and beautiful visual
Durable
Easy to maintain
Versatile and flexible in designs
Cheaper to install
Great for rooms that have limited space
Read Also: