What is Lightweight Concrete? its 6 Types, Uses, & Advantages
|
Lightweight concrete is made with lightweight coarse aggregates such as clay, slate, or shale which give it its characteristic low density.
Lightweight concrete involves an expanding agent that increases the volume of the mixture while giving additional qualities like decreases the dead weight.
Structural lightweight concrete has an in-place density of 90 to 115 lb/ft³ and the density of regular weight concrete ranges from 140 to 150 lb/ft³ so this makes lightweight concrete ideal for building modern structures. To build sleek foundations, it is being increasingly used.
Ordinary concrete is not suitable for use in floor-filling as filler because its density is 2300 kg/m3 and is quite heavy. The density of concrete can be reduced by using suitable aggregates and this lightweight concrete result in reducing dead weights on the structure and also has better insulation against sound and heat.
Types of Lightweight Concrete:
There are the following types of lightweight concrete such as;
Lightweight Aggregate Concrete
Aerated Concrete
No Fine Concrete
Lightweight Aggregate Concrete:
The use of lightweight concrete blocks was accepted in the UK for the load-bearing inner leaf of cavity walls in the early 1950s and soon to introduce Lightweight Concrete of high strength which is suitable for structural work, development, and production of new types of an artificial lightweight aggregate made it possible.
By using a variety of lightweight aggregates, lightweight aggregate concrete can be produced and this concrete originated from following;
Natural mineral such as volcanic pumice and thermal treatment of natural raw materials such as clay, slate, or shale.
Manufacture from industrial by-products such as fly ash and processing of industrial by-products such as pelletized expanded slab.
Light and weak aggregate can be used if high thermal insulation properties and little structural requirements are needed.
Aerated Concrete:
This type of concrete has the lowest thermal conductivity, strength, and density and it can be sawn, screwed, and nailed like timber. The usual methods of aeration are by mixing in stabilized foam or by whipping air in with the aid of an air-entraining agent for works in-situ.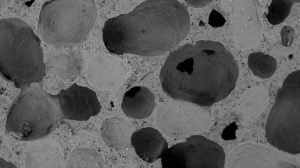 Areas where little strength is required such as roof screeds and pipe lagging Air-cured aerated concrete is used and full-strength development depends on the reaction of lime with the siliceous aggregates.
By chemical or a physical process during which air or gas is introduced into a slurry which generally contains no coarse material, this concrete is made and is a lightweight, cellular material consisting of cement or lime and siliceous material or sand.
No Fine Concrete:
No fine concrete is composed of cement and a coarse aggregate only and used for load-bearing, cast in situ external and internal wall, non-load-bearing wall and under floor-filling for solid ground.
No fine concrete contains only a single size 10mm to 20mm coarse aggregate and is an agglomeration of coarse aggregate particles and each particle is surrounded by a coating of cement paste up to the thickness of about 1•3 mm. For its low strength, large pores within the body of the concrete are responsible but no capillary movement of water can take place because of their large size.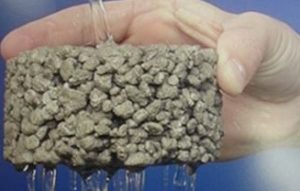 As load-bearing and non-load bearing walls including infilling walls and in framed structures no-fines concrete is always cast in situ mainly and as compared to normal-weight concrete, the strength of no-fines concrete is considerably lower.
Types of Lightweight Concrete Based on Strength and Density:
There are the following types of lightweight concrete based on strength and density as given below;
Low-Density Concrete
Moderate Strength Concrete
Structural Concrete
Low-Density Concrete:
For insulation purposes, these are employing chiefly and seldom exceeding 800 kg/m³ and heat insulation values are high with low unit weight. Regarding from about 0.69 N/mm2 to 6.89 N/mm2, compressive strength is low.
Moderate Strength Concrete:
Sometimes as fill concrete, these are designed and use of these concrete requires a fair degree of compressive strength thus they fall about midway between the low density and structural concrete.
Insulation values are intermediate and compressive strength is approximately 6.89 N/mm² to 17.24 N/mm².
Structural Concrete:
This concrete contains aggregates that fall on the other end of the scale and generally made with clay, expanded shale, slates, fly-ash, and slag and 17.24 N/mm² is the minimum compressive strength.
With compressive strength in excess of 34.47 N/mm² most structural concretes are capable of producing concrete and insulation efficiency is lower since the unit weight of structural lightweight concrete is considerably greater than those of low-density concrete.
Uses of Lightweight Concrete:
There are the following uses as given below;
For decks of long-span bridges, it is used.
It is used for the protection of fire and corrosion.
It is used as covering for architectural purposes and on roofs for heat insulation.
It is used in insulation of water pipes and for filling for roof slabs and floor.
In framed structures, it is used in the construction of partition walls and panel walls.
It is used in low-cost housing and for the production of precast building blocks.
Advantages of Lightweight Concrete:
There are the following advantages such as;
It helps easy removal, transport, and erection of precast products due to a reduction in the weight of concrete.
With respect to freezing and thawing, the lightweight concrete doesn't present special problems.
As compared to the ordinary concrete its fire resistance is greater and to spall, this concrete has comparatively less tendency.
As compared to ordinary concrete, this concrete has generally a lower thermal expansion.
The air-borne sound energy is converted into heat in the minute channels of the concrete so the sound absorption of this concrete is good.
Saves both labor and circle time for each floor because a reduced dead load of wet concrete allows a longer span to be poured.