What is Ferrocement? 6 Properties, Materials, & Advantages
|
Ferrocement
Ferrocement consists of wire meshes and cement mortar and is a construction material and due to the low self-weight, lack of skilled workers, and no need for a framework, etc applications of ferrocement in construction are vast.
In 1940 it was developed by P.L. Nervi an Italian architect and quality of ferrocement works are assured because the components are manufactured on machinery set up and at work site execution time is less. There is low maintenance cost and in the last two decades, this material has come into widespread use only in construction.
Ferrocement includes tightly spanned wire meshes and with strong cement mortar mix, these are permeated. The wire mesh passes on tensile strength and ductility to the material when the mortar produces the mass and against cracking, ferrocement has strong resistance capacity.
The Materials for Ferrocement:
Cement Mortar Mix:
Generally, the main ingredients of ferrocement are Portland cement and fine aggregate matrix and the matrix controls the behavior of the final product and comprises of approx 95% of the ferrocement.
In cement mortar, the cement-sand ratio 1:2 to 1:3 with water-cement ratio 0.4 to 0.45 remains and for ferrocement, the particles exceeding 2.36 mm and lesser than micrometer are ideal. In ferrocement the fine sand should not be utilized.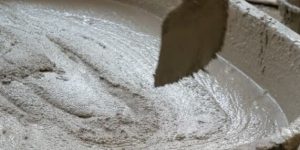 To enhance the functionality, stability, and strength as well as decrease permeability, plasticizers and other admixtures are included and to improve the stability, pozzolanas like fly ash can also be included up to 30% as a substitute for cement.
Reinforcement:
In ferrocement two types of reinforcements are applied such as;
Skeleton Steel
Wire Mesh
Skeleton Steel:
Skeleton steel includes large-diameter (approx 3 to 8 mm) bars spanned at 75mm to 100mm and it comes as welded wire fabric or tied-reinforcement.
With adherence to the geometry and shape of the structure, the skeleton frame is created and for retaining the wire meshes in the exact location and shape of the structure it is useful.
Wire Mesh:
In wire mesh, 6 mm to 20 mm center to center gapping is provided and comprises of galvanized wire of 0.5 mm to 1.5 mm diameter. With the help of welding, twisting or weaving the wire meshes are created and in the shape of square or hexagonal openings, the welded wire mesh may come.
As compared to hexagonal wire mesh, the mesh having square openings is better but is expensive and the square woven meshes with 1.0 mm or 1.5 mm diameter wire spanned at 12 mm are recommended normally.
Construction Process:
The construction process of ferrocement is divided into the following 4 phases as given below;
Fabricating the skeletal framing system
Applying rods and meshes
Plastering
Curing
On both sides of the skeleton frame, the necessary number of layers of wire mesh is secured and among two mesh layers, a gapping of a minimum 1 mm to 3 mm should be provided. By hand or shotcrete, mortar is used and for ferrocement construction, there is no necessary formwork.
Properties of Ferrocement:
There are the following properties of this cement such as;
It is a highly versatile form of reinforced concrete and has high stiffness and tensile strength.
It improves the punching shear resistance and influence.
In this Portland cement mortar is used instead of concrete.
The strength of this cement depends on the quantity of reinforcing materials used and the quality of the sand/cement mortar mix.
It has low weight and undergoes massive deformation earlier.
It is inexpensive, versatile material, and very durable.
Advantages of Ferrocement:
There are the following advantages such as;
It is more suitable for a special structure like shells and structures like roofs, water tanks, etc because it can be fabricated in any desired shape.
For precast merchandise, it is a highly suitable material.
To cracks, it has high ductility and resistance.
To tensile properties, it has also favorable and has a low maintenance cost.
The process of construction is very easy and against earthquakes, it has batter resistance.
Disadvantages:
There are also some disadvantages such as;
It has low shear strength and by hitting sharp objects it can be perforated.
Due to the incomplete coverage of metal by mortar corrosion of the reinforcing materials occurs.
There is a high cost of semi-skilled and unskilled laborers.
Much time is consumed while tying rods and mesh together.