Construction Tools: Hand Tools, Power Tools & 8 Tools By Job
|
Construction Tools
Construction tools are the instruments that are used for different purposes in all construction works and construction tools may be handmade, power tools, and machine or gardening tools.
Construction tools are generally re-useable and may be purchased new or second hand. To carry out the works, it is important that the correct tools are available, and also it is important that workers are properly trained in the use of construction tools.
Types of Construction Tools:
There are many types of tools used as construction tools, some of them are given below;
Hand Tools
Power Tools
Tools By Job
Hand Tools:
There are many types of hand tools used as construction tools such as;
Hammers
Pliers
Ladders
Measuring Tools
Chisels
Axes
Hammers:
For a wide range of jobs from household to worksite, hammers are one of the most common tools and different types may vary in size, shape, application, purposes, and composition but mostly used to drive nails through different surfaces including metal, plaster, and wood.
Hammers are one of the handiest tools you'll find but the hammer can also be dangerous when not stored or handled properly. So, to avoid unnecessary injuries be sure to follow safety precautions.
Pliers:
In all types of construction, plumbing, and general repair Pliers can be used and in a handyman's toolkit, it is one of the most common tools.
Firstly it was used by the Europeans for holding burning hot metal near the heat source.
The plier uses its joint as a fulcrum and its jaws to exert a solid grip and many different types of pliers that range in sizes, shapes, specialties, and types of material available.
Ladders:
There are many different types of ladders and you will find that differ in length, weight, usage, versatility, and storage and to prevent accidental injuries and falls, knowing the different types of ladders and using the right one for the task is crucial.
For many tasks in construction, ladders are extremely helpful and also be sure to inspect for any potential hazard and follow safety precautions.
Measuring Tools:
This is one of the types of construction tools used for measuring just about anything including distances, angles, water pressure, data, temperature, speed, time, and ingredients.
Chisels:
For woodworking, masonry, and metalwork chisels are used and within each area of work, there are multiple chisel options.
For centuries, chisels have been used but its design has changed little over the years because different models and designs have been developed.
Axes:
The oldest tools ever used by man are axes and have been used in agriculture and wood-cutting as well as for butchering animals and there are many types of axes used for different purposes.
Power Tools:
There are many types of power tools used as construction tools such as;
Air Tools
Drills
Air Compressors
Saws
Lathe Tools
Air Tools:
In construction, factory work, and even in home improvement projects and vehicle repairs, air tools are power tools that can be used.
These tools are perfect for use in remote locations with little to zero access to electricity and powered by compressed air.
Drills:
There are two types of drills such as;
Drill/Drivers; For drilling holes and driving screws into timber, metal, or plastic these are used and are the most popular type.
Hammer Drills; These drills have a hammer setting that rocks the drill bit in and out for drilling into masonry like brick, stone, and concrete.
Air Compressors:
Air compressors are used sources of compressed air that provide clean pressurized air and contaminant-free air and there are also many other benefits of having an air compressor such as cleaning, inflating tires, drilling, and painting.
There are many types of air compressors are available but their primary function of converting a power source into compressed air remains the same.
Saws:
Saws can be used from commercial construction to do-it-yourself projects and are versatile and invaluable tools and used to cut through almost all types of surfaces such as metal, wood, drywall, and concrete.
Saws often used in carpentry, woodworking, home remodeling projects, and tiling and are either hand-powered or electric.
Lathe Tools:
One of the types of construction tools used for metalworking, metal spinning, glass working, and woodworking is called lathe tool and for shaping a wide range of materials and used in a wide range of applications, a shaping machine is used.
Tools by Job:
There are several tools by a job which are used as construction tools as given below;
Hardwood Flooring Installation Tools
Cabinet Making Tools
Fire Place Tools
Drywall Tools
Plumbing Tools
Concrete Tools
Woodcutting Tools
Vinyl Siding Tools
Hardwood Flooring Installation Tools:
For flooring, hardwood remains to be the top choice and in the 1600s when only the wealthy could afford them, it first became a flooring option.
To spend the time and effort, installing hardwood flooring can be a weekend project so long as you're willing and you have to use the right tools.
Cabinet Making Tools:
To start the task you don't even need to buy expensive materials and anyone with basic woodworking skills can do it.
You need a few simple tools and most of them you might already have for cabinet making.
Fire Place Tools:
If you want to enjoy your wood-burning fireplace then fireplace tools are essential and for a burning fire and cleaning out the hearth afterward these tools are used.
Drywall Tools:
Working with drywall does not require too many tools and the best part about it is that you may already have the essential drywall tools in the toolbox.
Plumbing Tools:
To deal with home's plumbing problems many homeowners often pay for professionals but all you really need is basic tools to fix the most common household plumbing repairs if you have time to spare and willing to do the work.
Concrete Tools:
Concrete tools can be used in a wide range of applications and is a popular hardscaping feature.
When you want to hardscape your driveway or venture into any concrete-related project the concrete tools are used.
Woodcutting Tools:
For cutting wood, there are tons of tools you can use but make sure you are using the right tool for the task and to make wood-cutting a quick and uncomplicated process be sure you have the essential tools.
Vinyl Siding Tools:
For home, siding Vinyl is a popular choice because for home exteriors it is tough, durable, maintenance-free, and looks great.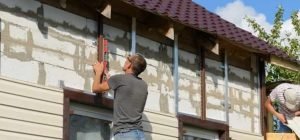 To install the siding yourself and save serious money, as a result, many vinyl siding comes with complete instructions, and tools are also fairly common and simple for installing vinyl siding.