concrete Texture – Its Types, Finishing, & Advantages
|
Concrete Texture
The concrete texture is the finish that they required no added material to produce. Stamped concrete is commonly referred to as texture or imprinted concrete or the concrete which is designed to resemble slate, brick, flagstone, stone, and tile.
There is a huge number of finishes and textures. It is important that the texture chosen for the environment is good and best for it.
For example nonslip for the pool surround or for house floor smooth and easy to clean. A concrete contractor creates the concrete structure so it is important to let the contractor know what finish or texture you want.
The shape and texture of aggregates will affect the fresh and hardened concrete properties and the shape and texture of aggregates can impact concrete strength and workability.
Concrete texture finishes are going to be expansive because all these finishes are done by the concrete finishers or maybe extra crew in finishing of concrete. To produce they require no added materials except several bags of salt in the rock salt finish.
Shape And Texture Of Aggregates For Concrete:
The shape and texture of aggregates will affect concrete properties and also impact concrete strength and workability.
1: Round & Angular:
To produce workable concrete, aggregates with an angular shape and rough texture require more water, by using this type of aggregates reduces workability. While to create a workable concrete, rounded aggregates and smooth texture requires less water.
To maintain the same water-cement ratio, angular aggregates require more cement. The increase of roughness and angularity of surface for aggregates will result in increasing the bond b/w aggregates and concrete. It will also improve the compressive strength and flexural of concrete.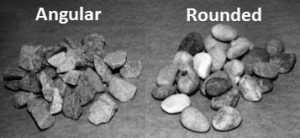 2: Flaky & Elongated:
In concrete mixture flaky and elongated aggregates should be avoided, these aggregates can affect the concrete. So, using flaky and elongated aggregates will reduce concrete workability. To produce a workable mix it requires more water and increasing the water will reduce concrete durability and strength.
If the least dimension is less than 0.6times of their main dimension then aggregates considered as flaky and if the greatest dimension is greater than 1.8times of their main dimension then aggregates are considered as elongated.

Types Of Concrete Texture:
There are many types of concrete finishes which are mostly used in these days such as;
1: Stamped Concrete: 
As for texture or imprinted concrete, the most commonly referred finish is stamped concrete. The stamped concrete is the concrete that is designed to resemble flagstone, slate, brick, stone, and tile.
2: Stenciling Concrete:
 To decorative stamping, while permitting similar design flexibility, stenciling concrete can be a great alternative.
3: Float & Trowel Finishes:
On the concrete patterns can be made like different size arcs and swirls. Depending on the tool used to impart the pattern, the texture created can be medium, smooth or coarse. The coarse texture is created by wood floats and smooth finishes are created by aluminum floats.
4: Broom Finishes:
Depending on the bristles of the broom you choose, broom finishes can be a coarse or light broom.
5: Rock Salt Finish:
Onto the fresh concrete water softener salt crystals 1/8" to 3/8" in size are broadcasted. Then a roller is used to press the salt crystals into the concrete. Later the surface is washed leaving small holes and dissolving salt.
Uses Of Concrete Texture:
There are many uses of concrete texture or finishes as given below:
In Flooring:
There are several types of concrete finishes in flooring such as;
Acid Stain:
Recognizable by its mottled appearance and highly variegated finish, an acid stain for the concrete floor has a very bold look. The color won't fade, peel or chip once the stain reacts with your concrete floor.
Water-Based Stain:
A water-based stain is a good option if you are looking for the subtle color palette of an acid stain also there are many colors to chose from.
Fast stain:
This stain gives the flecked appearance and highly variegated finish and can be used in conjunction with a water-based stain and acid stain.
Acrylic Sealer:
provides thin, portative film on the surface of the concrete floor.
Advantages:
Durable
Economical
Easy maintenance
Versatile
Variety of design options
Waterproof
Disadvantages:
Hardness
Moisture
Prone to cracks
Cold
Sustainability is questionable